SUICIDE PREVENTION IN THE CONSTRUCTION INDUSTRY

MENTAL HEALTH SUMMIT/SLIDES
On September 6, 2023, AGC New Mexico hosted a joint Mental Health Summit focused on Suicide Prevention in the Construction Industry. We covered a lot of material and shared resources and a positive views of the impact this movement had on the construction industry; (presentation slides will be coming soon..) the construction industry has one of the highest rates of suicide at 53.2 per 100,000 U.S. workers. That rate is four times greater than the national average and five times greater than that of all other construction fatalities combined.

---
Coins, Stickers, Banners, etc. - AGC of Missouri has developed a wealth of tangible items below (HOPE Coins, Hard Hat Stickers, Banners, and "Let's Talk" conversation card sets) for download or purchase directly from the supplier. Their innovative outreach program titled Hang On Pain Ends (HOPE) offers a position of care and concern while also offering assistance to those who may be in crisis. While they have been gracious enough to design and make available this program, please respect the branding and acknowledgment of their contributors. If you have any questions, please contact Brandon Anderson.
---
SUICIDE PREVENTION IN THE CONSTRUCTION INDUSTRY
Suicide is a serious problem in the construction industry. Construction has the 2nd highest rate of suicides among all occupations. It is a high-stress job that has high rates of alcohol and drug use, as well as a "tough guy" culture.
AGC of Missouri is committed to offering our members the necessary tools and resources to help save lives. Mental health needs to be a part of the safety conversation.

AGCMO is working collaboratively with other supporting parties throughout OSHA Region 7 to provide mental health resources, as well as, Construction Suicide Prevention Campaign materials and Stand-down event registration for your worksite.
---
OTHER RESOURCES
Jobsite Posters 5.5" x 8.5"
11" x 17"
24" x 36"
---
Hardhat stickers and pocket coins are available. Please contact Brandon Anderson (636.887.5207).
---
NEED HELP NOW?
Visit:
suicidepreventionlifeline.org
Call:
800-273-8255
Text:
741741
---
VIDEOS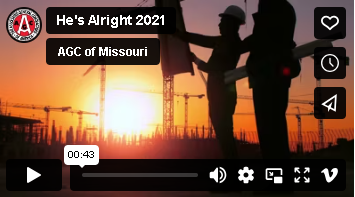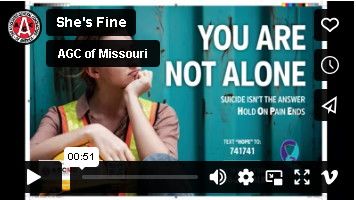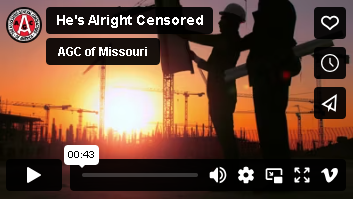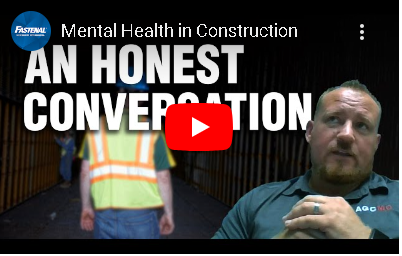 ---
HELPFUL WEBSITES
---
ADDITIONAL RESOURCES